Tara the Liberator: A Practice Retreat
Geshe Gelek Chodha
April 16 - 19, 2020
Who is it for?
Relative beginners with a sincere interest in Tibetan Buddhism are welcome, as well as more experienced students.
Silence Level
Partial silence
 What is it?
… For the success of your Dharma practice, of your actualizing the graduated path to enlightenment, you must rely upon a special deity, or Buddha, such as Tara. All the actions of the Buddhas have manifested in this female aspect of Buddha, Tara the Liberator, in order to help living beings to accomplish successfully both temporal and ultimate happiness.
📿~Lama Zopa Rinpoche 📿
This is a very precious opportunity to connect or deepen your connection with Tara the Liberator, the female Buddha who is so beloved to many Tibetan Buddhist practitioners.  Geshe Gelek has a deep reverence for and faith in Tara, as well as many years of Tara practice experience. His hope is that this retreat will support you in developing your devotion towards Tara so that you may receive the incredibly powerful mundane and spiritual benefits associated with praying to and meditating upon this powerful and compassionate female aspect of Buddha.
In this retreat, Geshe-la will explain the key elements of the Green Tara sadhana (guided meditation) and then participants will have the opportunity to do the practice several times under his expert guidance. (Those who have not received a Tara Initiation will visualize the deity in front of them, rather than at the heart.) When participants leave, the intention is that they will have learned all they need to continue to do the practice at home.
There are a wealth of tales demonstrating the potency of the blessings conferred upon those who succeed in devoting correctly to Tara. One story particularly dear to Geshe Gelek's heart is an incident when the great Tibetan Buddhist yogi and saint, Lama Atisha, was having physical problems and he prayed to Tara for help.  She appeared to him in a dream and suggested that he recite the  21 Tara Praises 10,000 times a day to resolve his health issues. Since Lama Atisha was elderly at the time, he protested that this was too much to accomplish. In response, Tara instructed him to recite the condensed version* of the prayer 10,000 times a day instead. He followed this instruction and his health returned. (For those who may be interested, this short, immensely powerful prayer is included below:)
🙏📿🙏*"Om to the transcendent subduer, Arya Tara, I prostrate.
Homage to the glorious one who frees with tare;
With tuttara you calm all fears; You bestow all success with ture;
To the sound soha I pay great homage."🙏📿🙏
Related Reading
"Commentary on the 21 Praises to Tara" by Khensur Rinpoche Lama Lhundrup Rigsel
"How to Free Your Mind: Tara the Liberator" by Thubten Chodron
Additional Information
Please plan on arriving between 3:00 and 5:00 PM on the first day of the retreat
Please plan on departing approximately 2:00 PM on the last day of the retreat
If you are interested in serving as Course Liaison for this retreat, please apply here.
Fees (includes accommodation, 3 meals a day, and facility costs)
The base fees listed above reflect the true cost of hosting visitors and are higher as a result. If you are financially able, we encourage you to please pay these fees.  That said, we also offer subsidized fees designed to allow as many people as possible to attend. These fees are supported by generous contributions to Vajrapani Institute. You can access those fees by using a discount code that will be provided to you at registration checkout. The accommodations are the same for both options.
10% membership discounts are also applicable for members (please contact the Main Office)
Financial Aid/ Scholarships
We want to make retreat available to everyone. With this in mind, we will gladly work out a payment plan with you.If you need even more assistance, we offer several scholarships. Please note that the scholarship deadline is one month before retreat begins.
If you have additional questions after reviewing the guidelines for payment plans and/or scholarships, please email the Office at office@vajrapani.org
Teacher's Fees
Traditionally, spiritual teachings are considered priceless; remuneration of our teachers is not included in the fee information detailed on this page. Instead, we invite you to consider bringing a cash donation with you to express your gratitude for the teachings. Participants get a chance to present a cash offering to the teachers on the last day of the retreat and this is supplemented by a donation from Vajrapani Institute. Please note that we don't offer a credit card option for gifts to teachers.
---
Teacher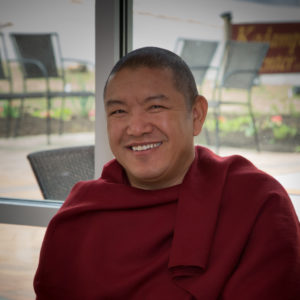 Geshe Gelek Chodha
Geshe Gelek Chodha was born in Sikkim, the oldest of five children. At the age of seven, Geshe-la went south to live at Sera Jey monastery and become a monk. He achieved the degree of Geshe Lharampa in 1997, continuing on to the Gyumé Tantric College to learn the intricacies of tantric rituals. Kyabje Zopa Rinpoche—at the suggestion of Geshe-la's classmate Yangsi Rinpoche—requested Geshe-la to come to Kadampa Center in Raleigh, NC as resident teacher in 1999. Since then, the members of Kadampa Center have been privileged to have Geshe-la as their spiritual friend while he teaches the Buddha Dharma…
Learn more about Geshe Gelek Chodha