Chenrezig Inititation with Gyumed Khensur Rinpoche Lobsang Jampa (Initiation Only)
Gyumed Khensur Rinpoche Lobsang Jampa
October 18 - 19, 2019
Level
Intermediate and Above
Silence Level
Partial Silence
Additional Booking Information
Make your reservation from this page if you are intending to only attend the Initiation (and not come to the associated retreat).  This "Initiation-only" offering does not include accommodations. We are reserving all bed spaces here uniquely for those staying to attend the residential retreat.
What Is It?
Avalokitesvara or Chenrezig is renowned as the embodiment of the compassion of all the Buddhas. The four arms and hands signify the four immeasurables: immeasurable loving kindness, immeasurable compassion, immeasurable joy, and immeasurable equanimity. The four immeasurables are the vehicles through which Chenrezig benefits beings. By receiving the Chenrezig initiation and practicing this sadhana we can gradually awaken our own awareness of those same qualities in ourselves.
We are so fortunate that our kind and compassionate guru, Gyumed Khensur Rinpoche Lobsang Jampa, is returning to Vajrapani Institute to lead another retreat on Tantra. This year Rinpoche will give a preamble to the Four-Armed Avalokitesvara Initiation on October 18 at 7.30 PM and will then offer the Initiation itself on October 19 at 10 AM. It is preferable, but not obligatory, to attend the preamble. The Initiation on October 19 is likely to be complete by 12:30 PM, however we have been advised that Rinpoche may possibly prefer to avail himself of a more spacious timeline (with a lunch break) for this Initiation, so Initiation attendees should expect to possibly stay until as late as 3 PM.
Rinpoche stressed that it is important to put the Tantra instructions that he gives into practice. Because of this, please do consider coming for the entire retreat. To register for a) the Initiation plus the full retreat OR b) the Initiation plus the first week of the retreat only register here.
Prerequisites, Commitments and Action Tantra Dietary Restrictions
Participants interested in taking the Initiation must have sincere faith in the Buddhadharma, a solid foundation in the Lam Rim (Graduated Path to Enlightenment) and be prepared to take the Refuge and Bodhisattva Vows as part of the Initiation. There is a possibility that Rinpoche may give Initiation participants a light daily commitment to recite the six syllable Chenrezig mantra.
Please note, there are dietary restrictions associated with taking an Action Tantra Initiation such as this one. For the day of the Initiation itself (October 19th) all participants must refrain all day from eating "black foods", namely: meat, fish, eggs, onions, garlic and radishes.
---
Additional Information
For the initiation only, please plan on arriving between

6:30 – 7:00 PM on October 18 (the event commences at 7:30 PM)
9:00-9:30 AM on October 19 (the event commences at 10:00 AM)
This "Initiation-only" offering does not include accommodations.  All bed spaces here are strictly reserved for those staying to attend the residential retreat.
Fees (Includes Vegetarian Lunch on October 19th)
We are offering a sliding scale fee structure for this initiation, with the minimum fee set at $65* (this includes a vegetarian lunch). Please pay what you are able. Thank you!  Please note, nobody is turned away for lack of funds; if you need help, please email office@vajrapani.org for further information.
*There is no charge for ordained monks and nun.
Teacher's Fees
Traditionally, spiritual teachings are considered priceless; remuneration of our teachers is not included in the fee information detailed on this page. Instead, we invite you to consider bringing a cash donation with you to express your gratitude for the teachings. Participants get a chance to present a cash offering to the teachers at the end of the Initiation as well as on the last day of the retreat. This is supplemented by a donation from Vajrapani Institute. Please note that we don't offer a credit card option for teacher's fees; please bring cash!
---
Teacher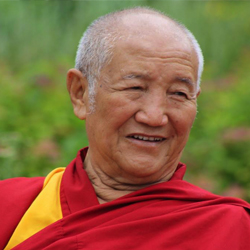 Gyumed Khensur Rinpoche Lobsang Jampa
Gyumed Khensur Rinpoche Lobsang Jampa is one of the last generation of Tibetan Buddhist scholars to begin their educational careers in Tibet prior to the Chinese invasion. He has played an instrumental role in the reestablishment and preservation of Tibetan Buddhist traditions in exile, and in the spread of Tibetan Buddhism to the Western world. Highly regarded for his scholarship and depth of religious practice, Rinpoche teaches frequently in New York, Washington D.C., and at Do Ngak Kunphen Ling (DNKL), a Tibetan Buddhist center in Connecticut, where he hosted a visit from H.H. the Dalai Lama in 2012. He is…
Learn more about Gyumed Khensur Rinpoche Lobsang Jampa