Reconnecting with Your Authentic Nature & Healing into Wholeness: A Daylong
Tenzin Ösel Hita
August 3, 2019
Level
All Levels
When
August 3rd, 10:00 am – 4:00 pm. (Please plan on arriving between 9:30 am and 9:45 am)
Who is it for?
This daylong retreat is a great match for you if you are still actively exploring a variety of spiritual paths and as part of this, you have a live curiosity about what Tibetan Buddhism may have to offer you.  Nevertheless, anyone with a genuine interest and sincere wish to fully participate in the entire day's activities is welcome to attend.
What is it?
This day of exploration will take you on a journey designed to forge a connection with a broader sense of yourself and your unique expression in the world.  It also aims to give you a glimpse of the real juice at the heart of spiritual practice.
You will be led through a variety of activities and practices aimed at gradually facilitating a deeper connection with yourself and the world around you.  These will include:
Easing into your authentic nature with meditation
Exploring the power of intention-setting and an altruistic mindset
Feeling into an embodied sense of your true nature with Somatics (deep, gentle yoga and stretching)
Playing with free expression, spontaneity, and engagement with self, others, and the wider space around you through connection and movement exercises
These practices will set the tone and prepare you for a highlight of the day:
A special talk with Tenzin Ösel Hita. Ösel is the officially recognized reincarnation of FPMT founder Lama Yeshe, and is also a former monk, a film-maker, a recent father, a skilled musician and a source of deep spiritual and practical inspiration to many worldwide. Ösel is known for his lightness and humor as well as his ability to engage and connect powerfully with his audiences, leaving them inspired, energized and motivated.  We have invited Ösel to speak on the theme of "Healing Into Wholeness" but given his gift for spontaneity, and his deeply altruistic mindset, he is likely to offer a talk that best meets the needs of those present on the day.
Important note about limited numbers: our intention is for this to be an intimate daylong gathering where participants can feel safe and contained in their process of exploration. For this reason, and due to space constraint in the venue where we will hold the movement and somatic activities, registration spaces will be strictly limited. For information on other opportunities to connect with Ösel at Vajrapani Institute as well as other Bay Area FPMT Centers, please see the section below.
Other events with Tenzin Ösel Hita:
Sunday August 4
Public talk, "Clear Light Love" at Vajrapani's Big Love Day Celebration
Sunday August 4 – Thursday August 8
"Being Your True Nature: A Meditation & Yoga Being Experience" at Land of Medicine Buddha in Soquel, CA
Sunday August 11
Taste of Buddhism at Tse Chen Ling in San Fransisco, CA
---
Additional Information
Please plan on arriving between 9:30 AM and 9:45 AM
Please plan on departing approximately 4:00 PM
A vegetarian lunch is included in the fees for the day
Teacher's fees
Traditionally, spiritual teachings are considered priceless; remuneration of our teachers is not included in the fee information detailed on this page. Instead, we invite you to consider bringing a cash donation with you to express your gratitude for the teachings. Participants get a chance to present a cash offering to the teachers at the end of the day, this is supplemented by a donation from Vajrapani Institute. Please note that we don't offer a credit card option for teacher's fees.
---
Teacher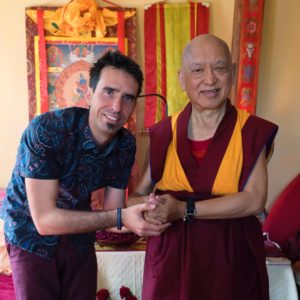 Tenzin Ösel Hita
Tenzin Ösel Hita is a radical free-thinker, former monk, filmmaker, and musician. Tenzin Ösel was born in 1985, in the village of Bubión at the foot of the Sierra Nevada, southeast of Granada, Spain. When he was 14 months old he was recognized by His Holiness the Dalai Lama as the reincarnation of Lama Thubten Yeshe, the founder of the Foundation for the Preservation of the Mahayana Tradition (FPMT). He is one of only a handful of non-Tibetans formally recognized as the reincarnation of a Tibetan master. He was educated in the traditional Tibetan Buddhist monastic university system at Sera…
Learn more about Tenzin Ösel Hita