New Year's Vajrasattva Purification Retreat
Elaine Jackson
December 28, 2019 - January 1, 2020
Level
All Levels
Silence Level
Partial silence
What is it?
The path to enlightenment is a gradual, proven process whereby one's mind is transformed to abide in never-ending contentment. In Tibetan Buddhism, this is called wisdom – a deep knowing of reality, as it is, through direct perception. Most of us operate from profound ignorance, a solid mis-knowing. This ignorance – that happiness and unhappiness come from somewhere "out there" – blocks us from seeing our clear light mind.
The Vajrasattva practice purifies our mind from grasping so strongly onto the mistaken view. Utilizing time-tested visualization and meditation, deluded states – pain, sorrow, hatred, pride, jealousy, doubt – lose their power. Our mind is purified. We then have the opportunity to realize that we ourselves have the power to transform our world into an enlightened paradise.
We'll engage in six practice sessions a day. Each session will include instruction and meditation. We'll have plenty of time for questions and discussion. We'll explore why this powerful Vajrasattva practice actually works, and how we can use it in our daily life to grow our happiness. We'll also have time to enjoy relaxation in this beautiful redwood forest.
Vajrapani Institute is a wonderful place to practice. It's full of the blessings of many, many amazing masters and meditators. Just to be in this blessed place brings peace. We will "enjoy as much as possible, without grasping," as founder Lama Yeshe used to say. On New Year's Eve, we'll celebrate our good fortune to have shared time together cultivating our precious human life's highest potential.
Who is it for?
Although this retreat can be attended by beginners, a prior background in Buddhism is helpful to get the most out of this retreat.
---
Additional Information
Please plan on arriving between 3:00 and 5:00 PM on the first day of the retreat
Please plan on departing approximately 2:00 PM on the last day of the retreat
If you are interested in serving as Course Liaison for this retreat, please apply here.
Fees (includes accommodation, 3 meals a day, and facility costs)
The base fees listed above reflect the true cost of hosting visitors and are higher as a result. If you are financially able, we encourage you to please pay these fees.  That said, we also offer subsidized fees designed to allow as many people as possible to attend. These fees are supported by generous contributions to Vajrapani Institute and are about 12% off the full cost. You can access those fees by using a discount code that will be provided to you at registration checkout. The accommodations are the same for both options.
10% membership discounts are also applicable for members (please contact the Main Office)
Financial Aid/ Scholarships
We want to make retreat available to everyone. With this in mind, we will gladly work out a payment plan with you.If you need even more assistance, we offer several scholarships. Please note that the scholarship deadline is one month before retreat begins.
If you have additional questions after reviewing the guidelines for payment plans and/or scholarships, please email the Office at office@vajrapani.org
Teacher's fees
Traditionally, spiritual teachings are considered priceless; remuneration of our teachers is not included in the fee information detailed on this page. Instead, we invite you to consider bringing a cash donation with you to express your gratitude for the teachings. Participants get a chance to present a cash offering to the teachers on the last day of the retreat and this is supplemented by a donation from Vajrapani Institute. Please note that we don't offer a credit card option for teacher's fees.
---
Teacher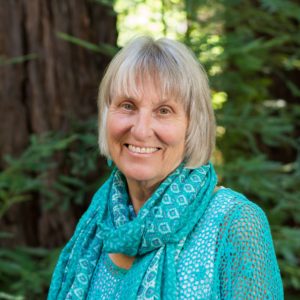 Elaine Jackson
Elaine Jackson is a founding member of Vajrapani Institute and has been a student of Tibetan Buddhism since 1977. She has studied with many of the greatest Buddhist teachers of our time including His Holiness the Dalai Lama, Lama Thubten Yeshe, Kyabje Zong Rinpoche, Lama Thubten Zopa Rinpoche and many others too numerous to list. Elaine is known for the warmth and humor with which she teaches. In particular, she loves sharing the wealth of practical insights she has gained from her years of retreat and service within the Tibetan Buddhist tradition. Elaine served as Executive Director of Vajrapani Institute…
Learn more about Elaine Jackson