Action Tantra Retreat
Gyumed Khensur Rinpoche Lobsang Jampa
October 18 - November 3, 2019
Essential Registration Instructions
Priority access is being given to those able to commit to attending this retreat for its entire duration, making full use of this precious container.
Pricing for attendance of the full duration of this retreat (Oct 18 to Nov 3) is listed on the right-hand side of this web page.
Some people are only able to attend the first week of the event, from Oct 18 to 25. This is the period when Rinpoche will give the Four-Armed Avalokitesvara Initiation and then give commentary on Action Tantra using the Avalokitesvara sadhana and the Action Tantra section of the Ngakrim Chenmo. Please note, if you are wishing to register for the first week only, please follow the instructions listed in red below.
1) Limit your payment for now to the $150 deposit only.
2) Remember to check the box that says: "partial attendance" or if you don't see the check box, right after you register send us an email at office@vajrapani.org to say your intention is to come for the first week only.
3) Be aware that the online system will initially erroneously display the default full pricing, (as if you were attending the full 15-day event).Don't be alarmed! Your balance is not due until the event begins and in the interim period we will manually reduce your balance to accurately reflect the 7-day pricing.
Pricing for attendance of the first week only of this retreat (Oct 18 to Oct 25) is listed here:
Commuting:                                     $700
Camping                                            $900
Dorm                                                  $1188
Semi-Private Quad Room             $1267
Private                                               $1633
Private Shared                                 $1116 (for 1st occupant; 2nd occupant pays 2/3 of this price. Sharing is for friends/partners only)
Cabin                                                  $1923
Cabin Shared                                   $1224 (for 1st occupant, 2nd occupant pays 2/3 of this price. Sharing is for friends/partners only)
Phase Three of online registration will open up at a future date (to be determined). This third phase of registration will be for those only wishing to attend the Initiation (which will take place on October 18 and 19.) Individuals who are only planning to attend the Initiation will not be able to reserve accommodations; it will be a "commuter only" option.
Level
Intermediate and above
Silence Level
Partial silence
What Is It?
We are so fortunate that our kind and compassionate guru, Gyumed Khensur Rinpoche Lobsang Jampa, is returning to Vajrapani Institute to lead another retreat on Tantra in 2019. He will start on a multi-year commentary on Lama Tsongkhapa's great treatise on the stages of tantra, the Ngakrim Chenmo. It's rare to get an introduction to Tantra in a step-wise fashion from the lower classes of Tantra all the way to Highest Yoga Tantra.
Rinpoche will give the Four-Armed Avalokitesvara Initiation and then give commentary on Action Tantra using a sadhana of Avalokitesvara in combination with the Action Tantra section of the Ngakrim Chenmo. Rinpoche will teach Oct 18-25 and the rest of the retreat (led by our resident teacher, Elaine Jackson) will concentrate on the Chenrezig practice with Mani mantra recitations and meditations on love, compassion, and bodhichitta in connection with reciting the Mani mantra (these are Rinpoche's instructions). Rinpoche also requested that students come with a goal of a certain number of mantra recitations that they want to collect during the retreat ("a person could set a goal of 100,000 or 600,000 or 1,000,000 mantras!").
Rinpoche stressed that it is important to put the Tantra instructions that he gives into practice. Because of this, please plan to stay for the entire retreat—even after Rinpoche leaves—so that we can follow our guru's instructions.
Prerequisites
Participants in this retreat must have sincere faith in the Buddhadharma, a solid foundation in the Lam Rim (Graduated Path to Enlightenment) and be prepared to take the Refuge and Bodhisattva Vows as part of the Initiation. There is a possibility that Rinpoche may give Initiation participants a light daily commitment to recite the six syllable Chenrezig mantra.
Please note, there are important dietary restrictions associated with taking an Action Tantra Initiation and Retreat such as this one. For the day of the Initiation itself (October 19th) all participants must refrain all day from eating "black foods", namely: meat, fish, eggs, onions, garlic and radishes. Those engaging in the Retreat should refrain from eating black foods for the duration of their participation in the retreat. Vajrapani Institute's kitchen will be providing meals to retreat participants that are in alignment with this restriction.
---
Additional Information
Please plan on arriving between 3:00 and 5:00 PM on the first day of the retreat
Please plan on departing approximately 2:00 PM on the last day of the retreat
If you are interested in serving as Course Liaison for this retreat, please apply here.
Fees (includes accommodation, 3 meals a day, and facility costs)
The base fees listed above reflect the true cost of hosting visitors and are higher as a result. If you are financially able, we encourage you to please pay these fees.  That said, we also offer subsidized fees designed to allow as many people as possible to attend. These fees are supported by generous contributions to Vajrapani Institute. You can access those fees by using a discount code that will be provided to you at registration checkout. The accommodations are the same for both options.
10% membership discounts are also applicable for members (please contact the Main Office)
Financial Aid/ Scholarships
We want to make retreat available to everyone. With this in mind, we will gladly work out a payment plan with you.If you need even more assistance, we offer several scholarships. Please note that the scholarship deadline is one month before retreat begins.
If you have additional questions after reviewing the guidelines for payment plans and/or scholarships, please email the Office at office@vajrapani.org
Teacher's fees
Traditionally, spiritual teachings are considered priceless; remuneration of our teachers is not included in the fee information detailed on this page. Instead, we invite you to consider bringing a cash donation with you to express your gratitude for the teachings. Participants get a chance to present a cash offering to the teachers on the last day of the retreat and this is supplemented by a donation from Vajrapani Institute. Please note that we don't offer a credit card option for teacher's fees; please bring cash!
---
Teacher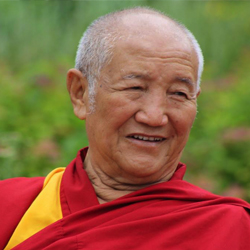 Gyumed Khensur Rinpoche Lobsang Jampa
Gyumed Khensur Rinpoche Lobsang Jampa is one of the last generation of Tibetan Buddhist scholars to begin their educational careers in Tibet prior to the Chinese invasion. He has played an instrumental role in the reestablishment and preservation of Tibetan Buddhist traditions in exile, and in the spread of Tibetan Buddhism to the Western world. Highly regarded for his scholarship and depth of religious practice, Rinpoche teaches frequently in New York, Washington D.C., and at Do Ngak Kunphen Ling (DNKL), a Tibetan Buddhist center in Connecticut, where he hosted a visit from H.H. the Dalai Lama in 2012. He is…
Learn more about Gyumed Khensur Rinpoche Lobsang Jampa