Deepening Your Practice
Elaine Jackson
August 18 - 25, 2019
This retreat can be combined with the Introduction to Meditation retreat that precedes it. We encourage you to come for both and make it an immersive ten-day experience.
Level
All Levels
Silence Level
Mostly silence
What is it?
Do you have a meditation practice? How's it going? Meditation is supposed to be easy, right? Sit. Relax. Breathe. Watch your mind. Then what?
Maybe you have a consistent meditation practice, but you still long for the peace of "calm abiding," because you find that your experience in meditation is more like listening to four different radio stations simultaneously. Rather than peace, you find chaos.
Stepping away from the busyness of your life for a few days, cultivating calm-abiding (Samadhi) and insight (Vipassana), you may find a radio station playing something worth hearing. What a relief! To establish an enduring practice, one that will actually lead to lasting happiness, requires sustained effort. When we deepen our practice, it becomes an integral part of our life. We can all use a boost in our practice from time to time.
The real purpose of meditation is to gently tame our mind in order to discover our true nature, to live as harmonious human beings, as a blessing for ourselves and others, and to make our lives as meaningful as possible. As a result of meditation training, we develop an open-hearted awareness of whatever is arising in the present moment. Our mind gives up its wandering and is quite happy to be alert, open, attentive and accepting of the present.
The simple practice of pausing, for the purpose of seeing what is actually true in each moment, works to retrain our minds. When our minds are relaxed and focused, through insight meditation, grace arises in us as love, compassion, and all the other noble qualities of our awakened humanity.
Join us in taking an expedition into our minds through the power of teachings, meditations, discussions, and silence. Learning to be gentle with ourselves, using the loving attention of meditation, relaxed and effortless, we deepen our practice.
For a fully immersive experience, this retreat starts immediately after the previous Introduction to Meditation retreat. We encourage you to consider coming for both and staying in deep retreat space for the entire ten day period.
What to expect?
Our retreat begins in the evening at 7 pm. There will be an introduction in the
main meditation hall given by a Vajrapani staff member, followed by a teaching and retreat explanation. We'll close around 8:30 PM.
We will gradually slip into full silence while first allowing retreaters to get to know one another. We will begin our silence a day or so after the start of the retreat. Allowing our speech to settle into natural silence, also allows our mind to settle and we will find it takes less and less effort to abide in mindfulness of each moment.
We ask that you leave your connectivity devices in your trunk, away from eyesight. If anyone from outside the retreat needs to contact you because of an emergency, please ask them to leave a message with the main office: 800-531-4001. Allowing yourself to completely unplug–letting go of ruminations over the past or fantasies about the future–creates an environment that allows you to go deeper in your practice.
Sessions will typically consist of three twenty-minute meditations that may be conducted sitting, walking or in the supine position. Some guidance will be offered during the meditations, more in the beginning and less as we progress through the retreat. The following is a tentative and flexible schedule for full days. We will adjust the schedule to suit our needs.
7:00 AM – 8:00 AM   Morning Session including daily prayers and motivation
8:00 AM – 9:00 AM   Breakfast Break
9:00 AM – 10:00 AM  Session
10:00 AM – 11:00 AM Teaching
11:00 AM – 12:00 PM Session
12:00 PM – 1:00 PM  Lunch Break
1:00 PM – 3:00 PM   Break
3:00 PM – 4:00 PM   Teaching/Discussion/Question and Answer
4:00 PM – 5:00 PM   Session
5:00 PM – 5:30 PM   Tea break
5:30 PM – 6:30 PM   Session
6:30 PM – 7:30 PM   Dinner Break
7:30 PM – 8:30 PM   Evening Session including meditation and dedication
On Sunday the retreat will close after lunch.
Suggested reading
---
Additional Information
Please plan on arriving between 3:00 and 5:00 PM on the first day of the retreat
Please plan on departing approximately 2:00 PM on the last day of the retreat
If you are interested in serving as Course Liaison for this retreat, please apply here.
Fees (includes accommodation, 3 meals a day, and facility costs)
The base fees listed above reflect the true cost of hosting visitors and are higher as a result. If you are financially able, we encourage you to please pay these fees.  That said, we also offer subsidized fees designed to allow as many people as possible to attend. These fees are supported by generous contributions to Vajrapani Institute. You can access those fees by using a discount code that will be provided to you at registration checkout. The accommodations are the same for both options.
10% membership discounts are also applicable for members (please contact the Main Office)
Financial Aid/ Scholarships
We want to make retreat available to everyone. With this in mind, we will gladly work out a payment plan with you.If you need even more assistance, we offer several scholarships. Please note that the scholarship deadline is one month before retreat begins.
If you have additional questions after reviewing the guidelines for payment plans and/or scholarships, please email the Office at office@vajrapani.org
Teacher's fees
Traditionally, spiritual teachings are considered priceless; remuneration of our teachers is not included in the fee information detailed on this page. Instead, we invite you to consider bringing a cash donation with you to express your gratitude for the teachings. Participants get a chance to present a cash offering to the teachers on the last day of the retreat and this is supplemented by a donation from Vajrapani Institute. Please note that we don't offer a credit card option for teacher's fees.
---
Teacher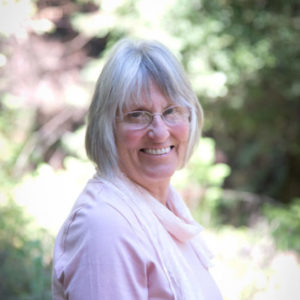 Elaine Jackson
Elaine Jackson is a founding member of Vajrapani Institute and has been a student of Tibetan Buddhism since 1977. She has studied with many of the greatest Buddhist teachers of our time including His Holiness the Dalai Lama, Lama Thubten Yeshe, Kyabje Zong Rinpoche, Lama Thubten Zopa Rinpoche and many others too numerous to list. Elaine is known for the warmth and humor with which she teaches. In particular, she loves sharing the wealth of practical insights she has gained from her years of retreat and service within the Tibetan Buddhist tradition. Elaine served as Executive Director of Vajrapani Institute…
Learn more about Elaine Jackson