Calm Abiding and Special Insight
Geshe Gelek Chodha
July 3 - 7, 2019
Level
All Levels
Silence Level
Partial silence
Who is it for?
Beginners are welcome and encouraged, as well as more advanced students wanting to review the stages of the path in an experiential format.
What is it?
Calm-Abiding (shamatha) and Special Insight (vipashyana) are two of the three principal aspects of the Buddhist path (the other being ethics).
Calm-Abiding is the practice of developing single-pointed concentration, resulting in a calm, clear and focused mind that can be used as a basis with which to conduct special insight—the investigation into the ultimate nature of reality.
Special Insight confronts the distorted view of reality that we share.  The Buddha said these distorted views arise from our mental afflictions—such as attachment and anger—which are the root causes of our suffering. This distorted view of things leads to craving and attachment to the things we like and aversion to the things we don't like. This in turn often leads to frustrations and dissatisfaction – the fundamental suffering nature of all things.
Join Geshe Gelek as he returns to Vajrapani for this illuminating retreat on Calm-Abiding and Special Insight infused with the Mahayana approach of engaging in all actions for the benefit of others.  He will guide us on how we can use these wise teachings of the Buddha to generate the mind that strives to see the world as it truly is, not as it appears—ultimately a more enlightened way of seeing.  Geshe-la will use the following texts, which unfortunately aren't available yet in English:
Calm Abiding by Gu-ge Yons Dzin Lobsang Tenzin
Short Text on Critical Point of Emptiness by Yong Zin Yeshe Gyaltsen
As Geshe Lhundub Sopa described so clearly:
Mere shamatha is not sufficient for achieving either individual liberation from samsara or the Mahayana goal of perfect enlightenment for the benefit of others. Nor can those final goals be achieved by vipashyana alone. Tsongkhapa says that if it is dark and you want to see a painting clearly, then you need a butter lamp that both shines brightly and is undisturbed by wind. If the lamp is bright and clear but flickers in the wind, then you will not be able to see the painting clearly. If there is no wind, but the light from the lamp is weak, then you will not be able to see the painting clearly. In the same way, you can cultivate an understanding of emptiness – the ultimate nature of reality – using inference and logic, but the profound truth of emptiness is much clearer when seen through meditation. To have a direct realization of emptiness, you must have the very deep and profound meditation where all other senses, sense consciousnesses, and thoughts stop, so that only one consciousness – the wisdom penetrating to the depths of the truth – remains. Only if you have the unshakable stabilization of shamatha combined with penetrating insight of vipashyana can you see reality clearly.
Suggested reading
Both of Gen Lamrimpa's books are short, very readable and crystal clear.
Additional Information
Please plan on arriving between 3:00 and 5:00 PM on the first day of the retreat
Please plan on departing approximately 2:00 PM on the last day of the retreat
If you are interested in serving as Course Liaison for this retreat, please apply here.
Fees (includes accommodation, 3 meals a day, and facility costs)
The base fees listed above reflect the true cost of hosting visitors and are higher as a result. If you are financially able, we encourage you to please pay these fees.  That said, we also offer subsidized fees designed to allow as many people as possible to attend. These fees are supported by generous contributions to Vajrapani Institute. You can access those fees by using a discount code that will be provided to you at registration checkout. The accommodations are the same for both options.
10% membership discounts are also applicable for members (please contact the Main Office)
Financial Aid/ Scholarships
We want to make retreat available to everyone. With this in mind, we will gladly work out a payment plan with you.If you need even more assistance, we offer several scholarships. Please note that the scholarship deadline is one month before retreat begins.
If you have additional questions after reviewing the guidelines for payment plans and/or scholarships, please email the Office at office@vajrapani.org
Teacher's fees
Traditionally, spiritual teachings are considered priceless; remuneration of our teachers is not included in the fee information detailed on this page. Instead, we invite you to consider bringing a cash donation with you to express your gratitude for the teachings. Participants get a chance to present a cash offering to the teachers on the last day of the retreat and this is supplemented by a donation from Vajrapani Institute. Please note that we don't offer a credit card option for teacher's fees.
---
Teacher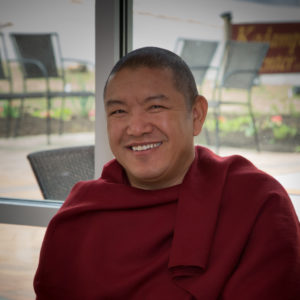 Geshe Gelek Chodha
Geshe Gelek Chodha was born in Sikkim, the oldest of five children. At the age of seven, Geshe-la went south to live at Sera Jey monastery and become a monk. He achieved the degree of Geshe Lharampa in 1997, continuing on to the Gyumé Tantric College to learn the intricacies of tantric rituals. Kyabje Zopa Rinpoche—at the suggestion of Geshe-la's classmate Yangsi Rinpoche—requested Geshe-la to come to Kadampa Center in Raleigh, NC as resident teacher in 1999. Since then, the members of Kadampa Center have been privileged to have Geshe-la as their spiritual friend while he teaches the Buddha Dharma…
Learn more about Geshe Gelek Chodha